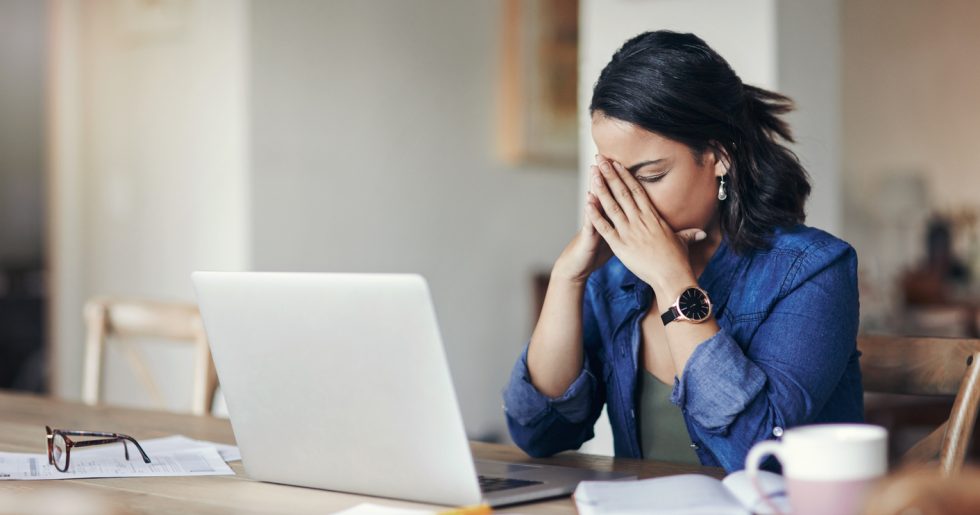 Autumn is the best time for planning, forecasting and budgeting. A truly nightmarish time for staff involved, though. But does it really have to be this way?
With all the unlimited data possibilities, it would be a great pity not to use all available tools to streamline planning. Do not be afraid to ditch those confusing, monstrous excel tables (are you sure you are working with the latest version of the document? Are there all comments there should be?)
The following article will tell you more all about:
how to avoid planning errors
how to make excel tables more user-friendly and easier to follow,
how to use work time more effectively,
how to get even more out of your data
What complicates the planning process?
The McKinsey & Company survey says that up to 40% of US CFOs consider their forecasts to be inaccurate and very time-consuming. We know that the pre-closing phase is the most difficult one to get past by as it is mostly still non-automated, extremely complex, full of repetitions and frantic recalculations in Excel.
Manually trudging through spreadsheets is time consuming and prone to human error (especially when you have to rely on someone's experience and feelings as these might, in some cases, be to the detriment of the cause and completely out of place).
What are the biggest drawbacks?
Time-consuming processes: creating new Excel templates each time; entering basic structures and values into these templates; sending them to be checked and changed; retrieving them and manually copying them to another Excel template
Risk associated with document versioning, uncertainty whether you are working with the latest version of the file
Repeated manual recalculation of key KPIs
The list goes on. Businesses spend so much time compiling numbers that they have no time to critically analyze them. How can we change that?
Tips for streamlining the planning process
– automate the planning process using a suitable BI tool – by doing so you can keep time spent creating templates and collecting data to a minimum. The tool should include change tracking functionality, option to accept or reject budgets and comment on values directly in the tool (write-back functionality). Business users should have an option to fill in the data directly in the planning tool, ideally linked to the top-down expectations that have already been pre-filled.
– ask the right questions:
What measures can we take to support the business in line with top-down expectations?
What new growth opportunities are there?
If the numbers show us bad news, why is this so and what shall we do about it?
This is exactly where planning steps up – the process requires LITTLE activity, but brings HIGH value.
Radovan Oreský, Data Strategist and Chief Digital Officer at EMARK Analytics, advises:
"Measure utilization over time and evaluate the accuracy of plans, for example, using variance, MAPE, RMSE, correlation, and the accuracy ratio of human and algorithmic predictions. "
Get inspired by the CFO's authentic planning experience.
What is the value of planning?
Planning is a critical business process, and as such it needs to be done as accurately, efficiently and as often as possible to yield the best possible forecasts.
The planning department staff complain the most about the paperwork complexity of planning, cycle extension due to inconsistent procedures, multiple document versions and vague responsibilities of colleagues.
The value of planning using BI tools:
increased productivity; improved accuracy;
clearer inputs for project management, better capacity planning (thus improving delivery accuracy, minimizing overtime and remodelling, leading to better deliveries and stabilized teams);
positive impact on finances – refined cash flow – setting real expectations, increasing profitability, eliminating the risk of inaccurate information – it is possible to determine what discounts the company can give its customers, how many people are needed in a team, which channels it should use to communicate (and thus retain key customers), what are the best investments etc. based on knowledge of intervals and probability;
forecasting the workload of the delivery staff – when the sales teams need to work extra hours (set goals and structure of staff's activities can be tracked – how effective they are, whether or not they meet the set goals and impact on the bonus system / payroll).

What our clients say:
Smart planning based on data technologies is used not only by medium-sized companies but also international corporations, such as Alliance Healthcare – a leading distributor of drugs and medical services provider, and Sellier & Bellot, a major manufacturer of small arms ammunition.
Using innovative technologies, they were able to significantly simplify and clarify:
Financial and business planning;
Stocks estimate;
Distributor bonus calculation;
Determining KPIs and standards for employees;

Jaroslav Bílek, process analyst at Alliance Healthcare, commented on the solution used: "We save a lot of time thanks to the automation of systems and processes previously done manually in Excel. The solution helped us edit the data and clean up the application's output. "
Radovan Šula, in charge of controlling at Sellier and Bellot, stated the following: "As we are now able to process data much faster, there is more time for other activities such as scenario modeling and change management. The outputs are undoubtedly more accurate and clearer."
On-demand planning webinar for download
Video – ako uchopiť top-down profitability planning –quickly and without errors.
Video – #PnL editing – all just a few clicks away and on one screen.
What do studies and surveys say?
There is no industry that could do without planning as every business needs the most accurate forecasts. 80% of companies surveyed agree that it is more efficient to work with a flexible forecast based on business intelligence than to rely on cumbersome Excel spreadsheets.
What is the future of planning?
In order for planning and forecasting processes to keep up with today's business requirements a radical change in planning approach is needed. According to the renowned analytical company BARC, it is a matter of harmonizing methodology (how to plan), technology (what to work with) and organization (how to work better). The infographics illustrates the three most frequently initiatives as reported by 400 companies in the survey The Future of Planning.
Planning, forecasting and budgeting must keep up with the times, as must all other strategic business activities. According to analysts, we need to focus on the following areas:
Create ongoing dynamic forecasts and respond flexibly to market changes;
Automate wherever it makes sense (e.g. set up data management software);
Focus on employees' ability to work with modern solutions, understand innovative methods and use relevant data.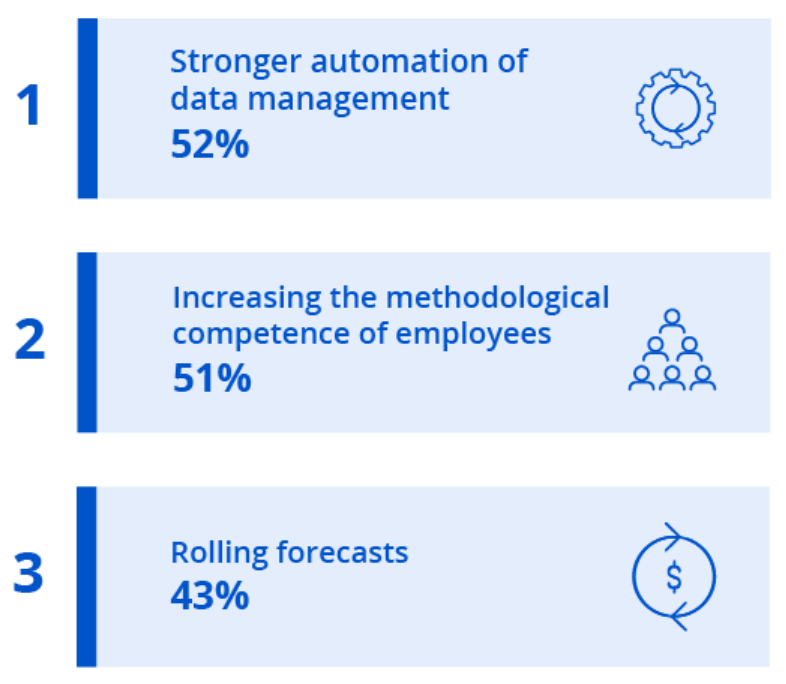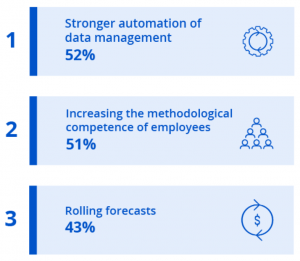 Are you interested in our solution? We are here for you …