Qlik Sense:
Swift analyses of every type of data
Qlik' flagship and one of the TOP analytical tools. It's a breakthrough technology
that lets you analyze data in a record time. The work with the tool is easy and fun
since the environment reminds of a computer game. This is Qlik Sense.

Speed, performance, reliability
Boost your business using brutal analytical power thanks to state-of-the-art technologies such as associative data model and in memory engine.

Self-service business intelligence
You no longer have to ask the IT department for new analyses or reports. Even casual PC users can work with Qlik Sense. We call it "democratization of BI".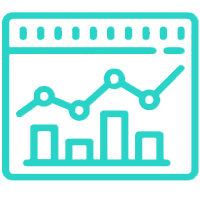 Smart visualisations for everyone
Qlik Sense displays results in dashboards that suit your needs and taste the best.

Drag-and-drop features for your analyses
If you want to add a new data source or re-organize your dashboard, all you need to do is drag-and-drop and done.

Platform approach at its best
Qlik Sense connects the worlds of business and IT. Users can enjoy autonomy and instant responses, while IT maintains absolute control over everything.
Qlik Sense:

Discover the future of data analytics
Imagine a company in which the answers to complex questions are always just a few clicks away and available to anyone. Welcome to the world of Qlik Sense. This tool is closer to the user than ever before. It can be used literally by anyone. Anyone who can work with Excel can now rely on its speed and broad functionality. It's suitable for laptops, tablets, even smartphones. Qlik Sense loves to process large volumes of data and delivers results within seconds.
Partners who use
Qlik Sense
MEETING PREPARATION HAS NEVER BEEN EASIER
Everything you need
at one place just a
just a
few clicks away
You can prepare and review all the essential information you need at one place. Long hours spent analyzing and reading large and chaotic spreadsheets in PowerPoint or MS Excel are now a thing of the past. Just a few clicks and the answer you were looking for pops up on the screen just bit slower thatn the the speed of thought.
WORK THAT USED TO TAKE HOURS OR DAYS IS NOW FINISHED IN A FEW SECONDS
Unmatched speed available
to everyone
Qlik Sense's performance exceeds all expectations. Working with this tool is fun thanks to the unique drag-and-drop responsive environment that thinks ahead. You do not have to wait for the IT department to prepare the analysis or report. Just a few clicks and you can make or edit things you need while the system itself offers best options possible.
A SOLUTION THAT THINKS LIKE A HUMAN BRAIN
Technical revolution
with Qlik Sense
Qlik Sense is based on a platform that Qlik has been developing for almost 20 years. Its brutal analytical force is based on a technology that combines data and creates associations between them – just like a human brain does. Qlik Sense helps clean up data and prepares new analyses or reports in almost no time. Then simply enter keywords into the smart search engine or drag and drop any data source and the analysis can begin. Not even big data pose a problem for this little wizard thanks to the powerful in-memory engine.
Write your own story.
Anywhere
The data itself is almost worthless if you do not have the right context. One of Qlik Sense's key features is storytelling – the ability to read and see situations from all angles. This will unlock the potential of corporate data and help find sense in the chaos of unstructured data. Developers of Qlik have not forgotten about the importance of mobile analytics, do not worry! You can download the application to your smartphone or tablet and continue working wherever and whenever you like.
A GOOD SERVANT THAT WILL TURN TO A BAD MASTER
Reports and analyses
as a managed process
Qlik Sense connects the world of business and the world of IT. Users can enjoy autonomy and instant responses while IT maintains absolute control over everything. Users can enjoy freedom when analyzing data or searching for answers without having to wait for the specialists to prepare the required data. Qlik Sense comes with a robust data governance to ensure security, consistency and credibility of your data.
QLIK SENSE WILL LIKE YOUR RULES
Enterprise class
architecture
Qlik Sense thought in a great detail about the needs of large corporations and thus complies with the strictest security policies. All data and processes remain under your control. Provided information is consistent and always reliable. Qlik Sense also meets the most demanding management requirements (flexible allocation of licenses, usage tracking, transparent management interface – all that saves time and simplifies troubleshooting), security requirements (enables incorporation of any requirements) and scalability requirements (visualization support, elastic scalability, geographic clusters, global deployments and roll-outs).
Other benefits
brought about by Qlik Sense

Governed environment
All applications access defined data sources without compromising their security.

Progressive approach
Users gain access to individual functionalities gradually as they develop their skills and needs.

Smart Data Load
Improves visualization and greatly simplifies data collection across the company.

Qlik Sense DataMarket
A unique data library includes, for example, stock exchange information, rates, weather forecasts, demographic as well as socio-economic data.

Simple and easy sharing of analyses and reports
Users can work together during the process. The outputs will be more accurate and detailed. All that just few clicks away.

Shared objects library

It is possible to predefine calculations and visualizations to ensure their consistent use – now you can be sure the whole company works with the same data.

Broad development options

New interfaces streamline integration into the surrounding environment.

Embedding through the advanced API
Qlik Sense integrates into websites and customized IT solutions through advanced APIs to help you get a massive analytical power in record time.
Try all Qlik Sense capabilities on our cloud environment for 2 months for free.
Just fill your contact details and a short summary of your goals and we will set it up for you in no time.