Najrýchlejšia cesta do sveta IoT a Industry 4.0
Ak je reč o IoT a Industry 4.0, technológie už nie sú problém. Spoločne s mega-inovátormi z OMS Intelligent Solutions sme dali hlavy dokopy a výsledkom je komplexné IoT riešenie, ktoré zahŕňa všetko, čo pre štart či rozvoj IoT a smart factory potrebujete – od zberu a integrácie dát na jednej platforme až po pokročilú analytiku a vizualizácie v reálnom čase. Takéto IoT riešenie môžete dnes mať už o niekoľko dní a týždňov, pritom nemusíte minúť státisíce eur.
Analytika nad IoT dátami
Prečo potrebujeme IoT? Príklady, ako vám IoT môže pomôcť (a je toho omnoho viac)
Lepšie spoznáte čo sa u vás deje
Kedy sa prehrievajú stroje

V akom čase je koľko ľudí na prevádzke/predajni/hale...

Koľko elektriny spotrebovala klimatizácia v konkrétnom čase
Nájdete priestor pre efektivitu
Ušetrite XY eur vypínaním svetiel

Pravidelnou výmenou súčiastky XY znížime výpadky výroby o XY hodín

Úpravou spúšťacích pravidiel ohrevu vody znížime tepelné straty v hodnote XY eur
Automatiziou ušetríte a znížite riziko
Vyhnite sa úrazom či pokutám - ak pracovník vstúpi do chráneného priestoru bez helmy, spustí sa signalizácia

Znížte náklady na elektrinu - vzduchotechnika sa spustí až keď hodnota CO2 dosiahne určitú úroveň
Digitálna transformácia
Prepojte IoT s dátami z ERP, CRM, HR, externými zdrojmi… Tu už hovoríme o skutočnej digitálnej transformácii. Pozrite si ako môžete profitovať z takéhoto prepojenia.
Prepojenie našich minulých predajov, externých údajov ako vývoj ceny komplementárnych produktov a IoT údajov o aktuálnej situácii je možné predikovať predaje na zajtra a blízke obdobie, a tým vyhodnotiť potrebu vstupov
Projekcia materiálu a vyťaženia procesov
Na základe dopytu, fyzických limitov procesov zistených vďaka IoT meraniam a dostupnosti zdrojov (ľudia, materiál, technológie) v najbližších týždňoch je možné projektovať či a kedy bude možné dopyt uspokojiť, prípadne si vytvárať scenáre (ktorého zákazníka uprednostníme, ktorého posunieme atď.)
Na základe IoT meraní (teplota, vibráie, hluk, emisie...) v kombinácii s evidenciou incidentov (kedz sa to pokazilo, údržby (kedy sme to opravili) a kvality (kedy a koľko bolo nepodarkov), je možné odhadnúť optimálny čas na výmenu kľúčových komponentov, aby sa predišlo výpadkom a nepodarkom
Komplexné IoT riešenie
Komplexné IoT riešenie vám pomôže získať dáta z výroby, na jedinej platforme ich prepojí a tiež vyhodnotí. To všetko v reálnom čase. Mimoriadne cenné insighty, ktoré z toho vzídu odhalia úplne nové možnosti rozvoja. Tiež pomôžu vyhnúť sa problémom vo výrobe, neplánovaným odstávkam, či chybám. Zachytávajte signály vašich zariadení skryté v dátach. Technológia už nie je limitom. Výzvou je skôr prepojiť rôzne zdroje dát, urobiť zmysluplné závery a neminúť na to státisíce eur. Vďaka inováciám to už nie je problém.
Môžete mať IoT údaje vo svojom Qlik riešení, navyše prepojené s inými údajmi z vašich systémov. Prípadne môžete využiť riešenie WorkSys od OMS Intelligent Solutions, kde bude Qlik s vašimi IoT údajmi embedovaný (Digital Intelligence).
Agilná architektúra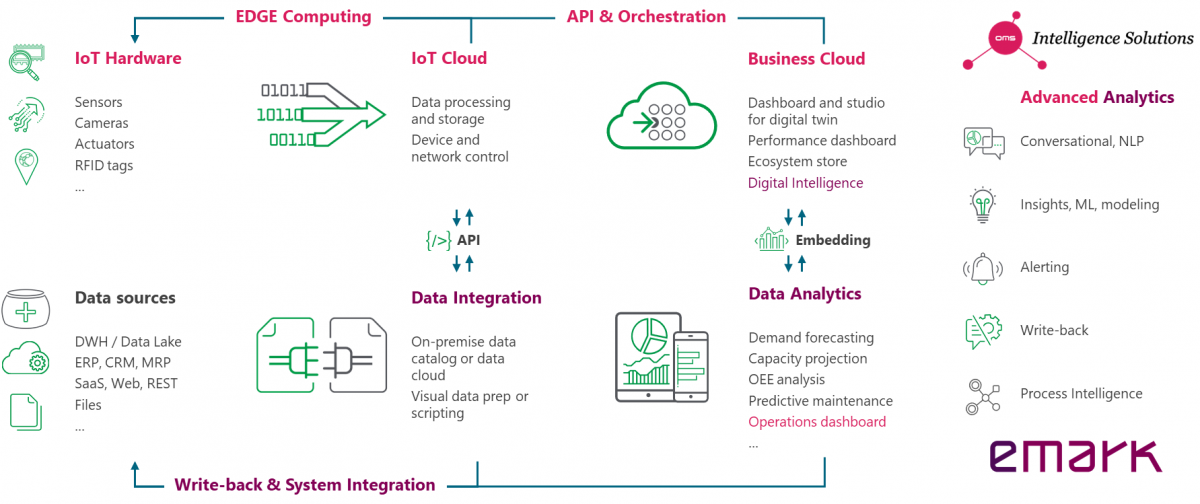 Not sure if this solution will work with your data?
We built data flows from Navision, SAP, NetSuite, Spin, Helios, Pohoda, and many many other ERPs in the past. Whatever data sources you have we can handle them... Or will be happy for you to prove us wrong 😉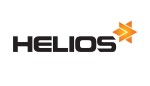 Book a discovery call. We are eager to help.