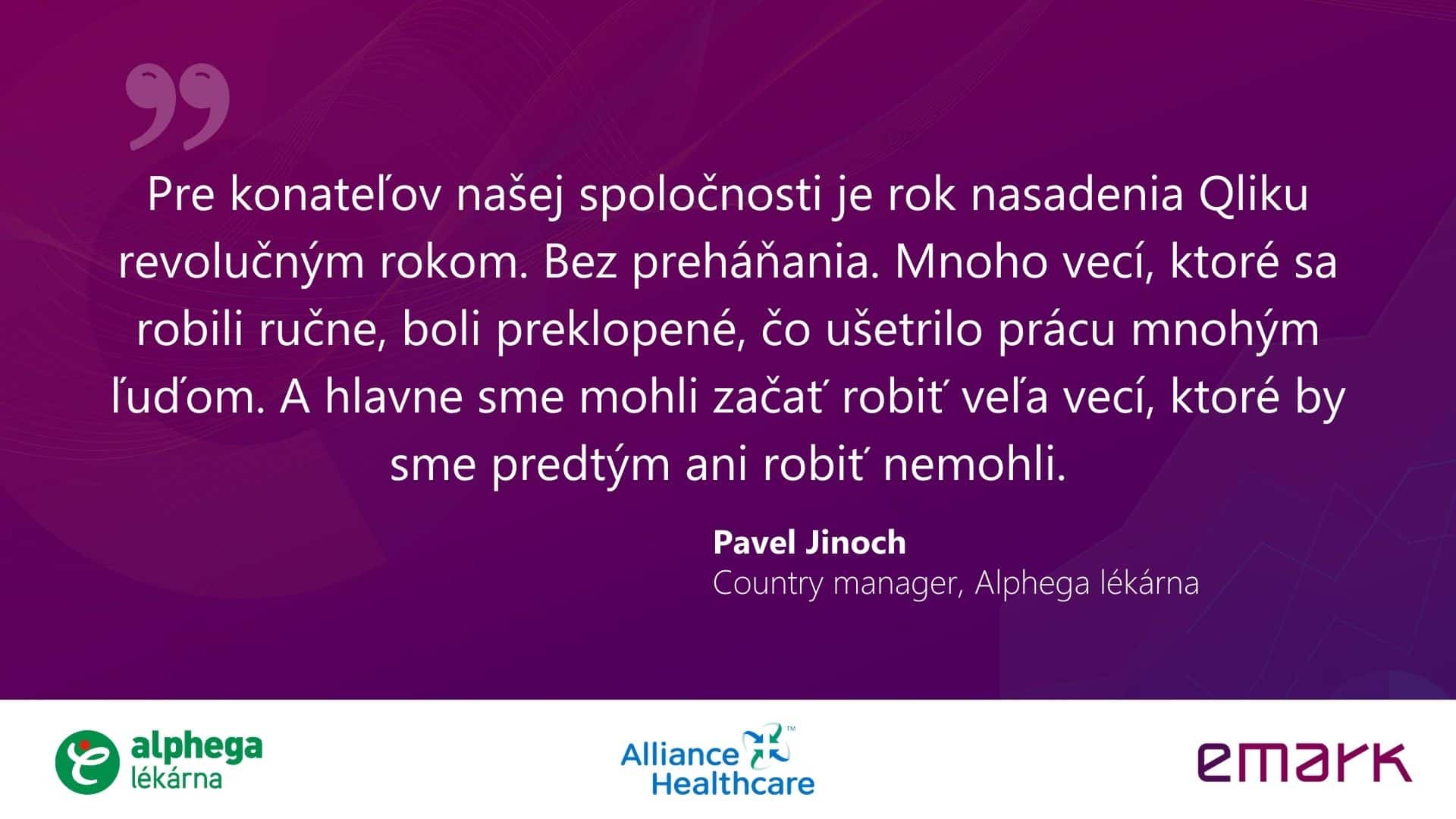 Likvidace excelů a vše v rychlých pohledech – to byl jeden z hlavních benefitů, který doprovázel příchod Qliku do sítě Alphega lékárna, kterou provozuje její mateřská společnost Alliance Healthcare. O projektu, o využití datových analýz a jejich přínosech jsme si popovídali s Pavlem Jinochem, Country Managerem lékárenského řetězce.
Datová revoluce
Ve vedení společnosti Alliance Healthcare, která v České republice provozuje řetězec 280 lékáren, hovoří o roku, kdy přišel Qlik jako o revolučním. To, co se dělalo ručně dnes probíhá automaticky, na pozadí, což šetří čas a uvolňuje ruce lidem, kteří se mohou věnovat produktivnější činnosti jako sestavování reportů a vedení má o všem přehled. S příchodem Qliku také začali s mnoha věcmi, které předtím ani dělat nemohli.
Za klíčovou schopnost, kterou příchodem datových analýz získali, považuje šéf řetězce Alphega lékárna měření. Jak říká, "co se měří, to se lepší." A výsledek na sebe nenechal dlouho čekat. Už po několika měsících naměřili nárůst úspěšnosti křížového prodeje na úrovni 5%.
Datová evoluce
Za více než 4 roky spolupráce toho však bylo mnohem víc, než jen cross-selling. Pavel Jinoch nám prozradil, kam se i díky datové analytice byli schopni posunout. Zde je malá ochutnávka, co všechno v Alphega lékárna / Alliance Healthcare posunuli:
👉Sledování tržeb
👉Měření cross-selling kampaní
👉Řízení pohledů přes kategorie
👉Sledování maržovitosti jednotlivých kategorií
👉Zvyšování hodnoty nákupního košíku
Podívejte se na celý rozhovor a dozvíte se více. https://emarkanalytics.com/sk
Chcete zažít podobný příběh? Dejte nám o sobě vědět … Více informací o našich řešeních a technologiích naleznete zde: https://emarkanalytics.com/cs