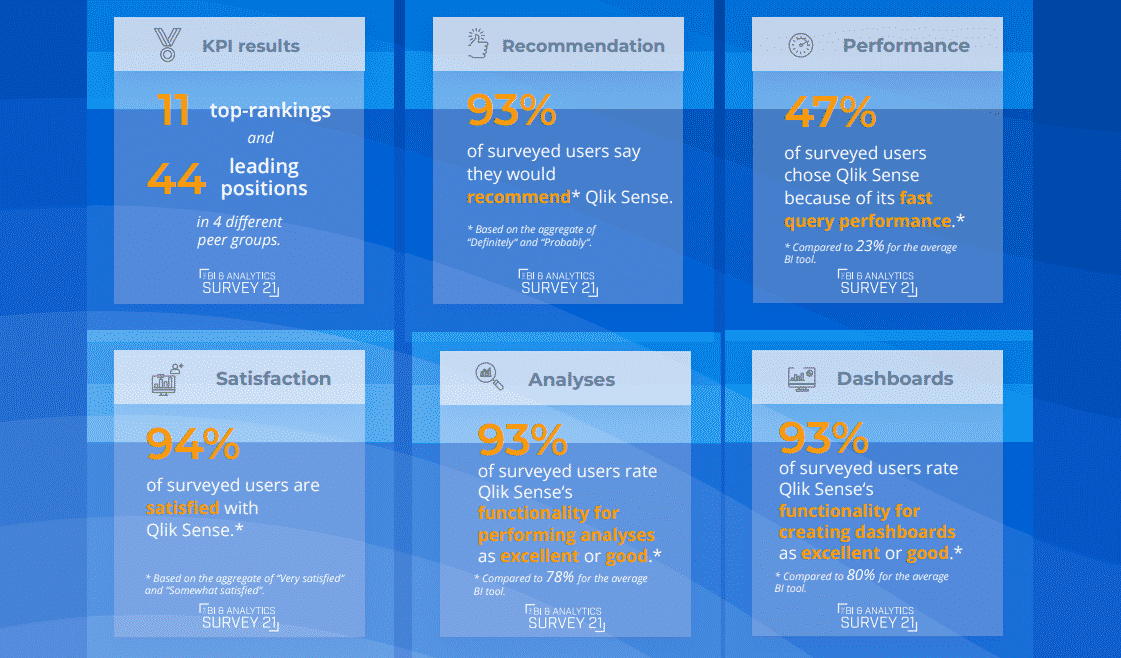 Nedávny BARC The BI and Analytics Survey 21 odhalil vysokú dôveru BI a analytickej komunity voči riešeniam popredného svetového BI vendora, spoločnosti Qlik. Jej vlajkový produkt Qlik Sense získal 11 najvyšších hodnotení a 44 líderských pozícií v štyroch oblastiach. Výročná štúdia BARC BI & Analytics Survey je postavená na hodnotení viac ako 2,500 profesionálov spomedzi BI užívateľov a analytikov. Dlhoročne patrí medzi najdôveryhodnejšie prieskumy na svete. EMARK Analytics je dlhoročne najsilnejším partnerom Qliku v našom regióne, EMARK má zároveň stále silnejšiu pozíciu v regióne APAC, kde patrí medzi najrýchlejšie rastúcich Qlik partnerov.
BARC The BI & Analytics Survey 21 je považovaný za najrozsiahlejší a najkomplexnejší prieskum medzi BI profesionálmi – biznis užívateľmi, analytikmi či IT odborníkmi. Nezávislý prieskum sumarizuje hodnotenia 36 kritérií, vrátane prínosu pre biznis; úspešnosti projektu; biznisovej hodnote; zákazníckej spokojnosti; inovatívnosti a konkurencieschopnosti.
Detailné výsledky
Qlik získal najvyššie umiestnenie v 8 kategóriách pre najväčších svetových BI hráčov: prínos pre biznis; biznisová hodnota; odporúčanie; spokojnosť s produktom; dashboardy; analýzy; zákaznícka skúsenosť a príprava dát. Qlik zároveň získal TOP umiestnenie aj v dvoch kategóriách pre produkty zamerané na self-service analytiku: analýzy a konkurencieschopnosť. Najvyššie hodnotenie spomedzi všetkých účastníkov prieskumu získal aj v kategórii produktov Embedded analytics, pričom odbornú komunitu zaujala najmä konkurencieschopnosť Qlik Sense.
Okrem 8 najvyšších známok Qlik Sense zaznamenal excelentné výsledky (teda 90 a viac percent) aj v ďalších kľúčových kategóriách ako analýzy, dashboardy, spokojnosť či odporúčanie:
93% za analytickú funkcionalitu Qlik Sense
93% za schopnosť Qlik Sense tvoriť dashboardy
93% užívateľov by Qlik Sense odporučilo
94% užívateľov je s Qlik Sense spokojných
Kto je Qlik?
Qlik demokratizuje analytiku a BI tak, aby ktokoľvek mohol voľne pracovať s dátami. Qlik Sense už roky patrí do absolútnej svetovej špičky a je považovaný za najkomplexnejší nástroj v oblasti BI a data analytics. Riešenia postavené na technológii Qlik umožnia komukoľvek odhaľovať skrytý potenciál ukrytý v dátach, robiť lepšie rozhodnutia a dosahovať lepšie výsledky za pomoci dát.
Celý prieskum si môžete prečítať TU.