Hlboký pohľad do vnútra vašich Qlik dát, ktorý umožní
prijímať rýchlejšie, spoľahlivejšie a pevnejšie rozhodnutia
Dokonalý prehľad
vášho Qlik prostredia
NodeGraph je technológia, ktorá pomôže zmapovať všetky QlikView a Qlik Sense zdroje, ktoré vo vašom informačnom systéme máte. Od vstupných dát cez transformačné aplikácie až po finálne aplikácie a to až na úroveň vlastnosti finálnych objektov. Všetky analýzy sú robené nad metadátami, čo výrazne zjednodušuje nároky a trvanie procesu tvorby vstupov.
Data Atlas
Data Catalog zobrazenie a kontrola všetkých typov súborov v Qlik prostredí cez jednoduché vyhľadávanie.
Dependency Explorer zobrazenie plnej cesty od dátových zdrojov až po detaile objektov jednotlivých aplikácií
 Field Explorer zobrazuje celý proces scriptov, ktoré daný súbor vygenerovali
 Reports umožňujú jednoduché generovanie preddefinovaných reportov (napr. nájdenie nepoužívaných súborov…)
Data Quality Manager
možné nastavenie automatických testov
Add-Ons & Integrations
napr. Documentation Scheduler, Export Lineage alebo Qlik Sense Extension/NPrinting,…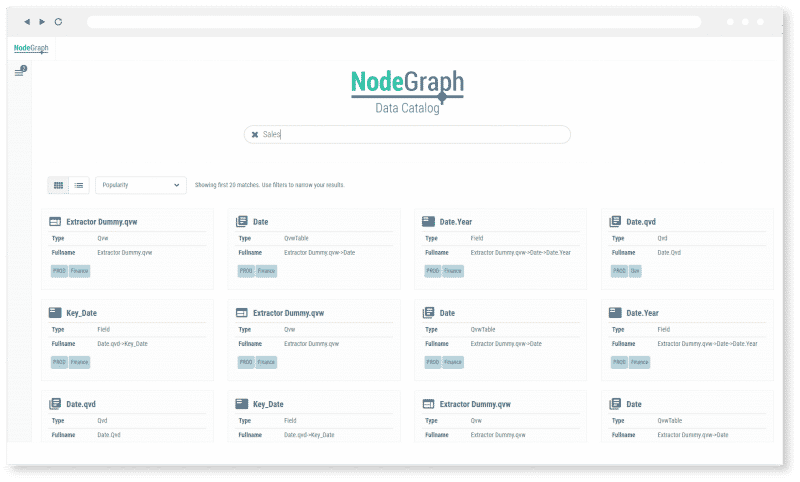 Funkčné

use cases
Využitie naprieč rôznymi odvetviami. Riešenie vhodné pre každé Qlik prostredie.
Audit a transparentnosť prostredia

Analýza aplikovanej biznis logiky v 

Qlik

skriptoch

Zjednodušenie vývoja aplikácií

a podpora spolupráce

vývojarov

/

power

userov

Analýza dopadov vykonaných zmien na strane dátových zdrojov alebo samotného

Qliku

Zabezpečenie dátovej kvality
Do you believe that data can help you to make better business decisions? Let us know.