Active Intelligence represents a new state of business intelligence where organizations can act in the moment, in real-time which builds on previous generations of business intelligence.
< 20% Informed Action
Passive
No governed pipeline
Pre-configured reports
No action triggers
20 – 30% Informed Action
Reactive
Limited real-time data
Visualization and dashboards
Limited alerting
30 – 50% Informed Action
Augmented
Near real-time data
Augmented analytics
Alerting and collaboration
> 50% Informed Action
Active
Real-time data pipeline
Action-oriented analytics
Automated event triggering

Why SaaS


Lower total cost of ownership
Faster deployment speed
Completely web-based, no downloads or installs
99% faster than on-premises deployment
Significant infrastructure savings
No hardware procurement required
Uses operational budget, not capital expenditure
Reduced risk
Rapid time to value with minimal deployment risk
No ongoing support for infrastructure issues
Intelligent Data Alerting


Take intelligent, timely action
Sophisticated alert criteria
Statistical evaluation of data against thresholds
Comparisons between measures
Condition and/or logic
Drill into dimension

Evaluate / trigger alerts based on individual dimension values
Context-aware
Alerts retain selection-state for further analysis in-context
Self-service and centralized alerting
Triggering on data reload or scheduled basis
Email, mobile, and web delivery
Qlik Sense Mobile
Enhanced SaaS capabilities for iOS and Android

Native, optimized user experience on handhelds and tablets
Single object mode for easy navigation
Intuitive selections bar at bottom
Mobile collection in hub
Fully interactive, associative exploration when no connection is available

Make selections to refine context
Search across all your data
Collaboration and sharing using device features
Integrated alerting with push notification
Best-in-class security and governance for data, applications, and users
Get answers to unforeseen questions in mobile environments, even without connectivity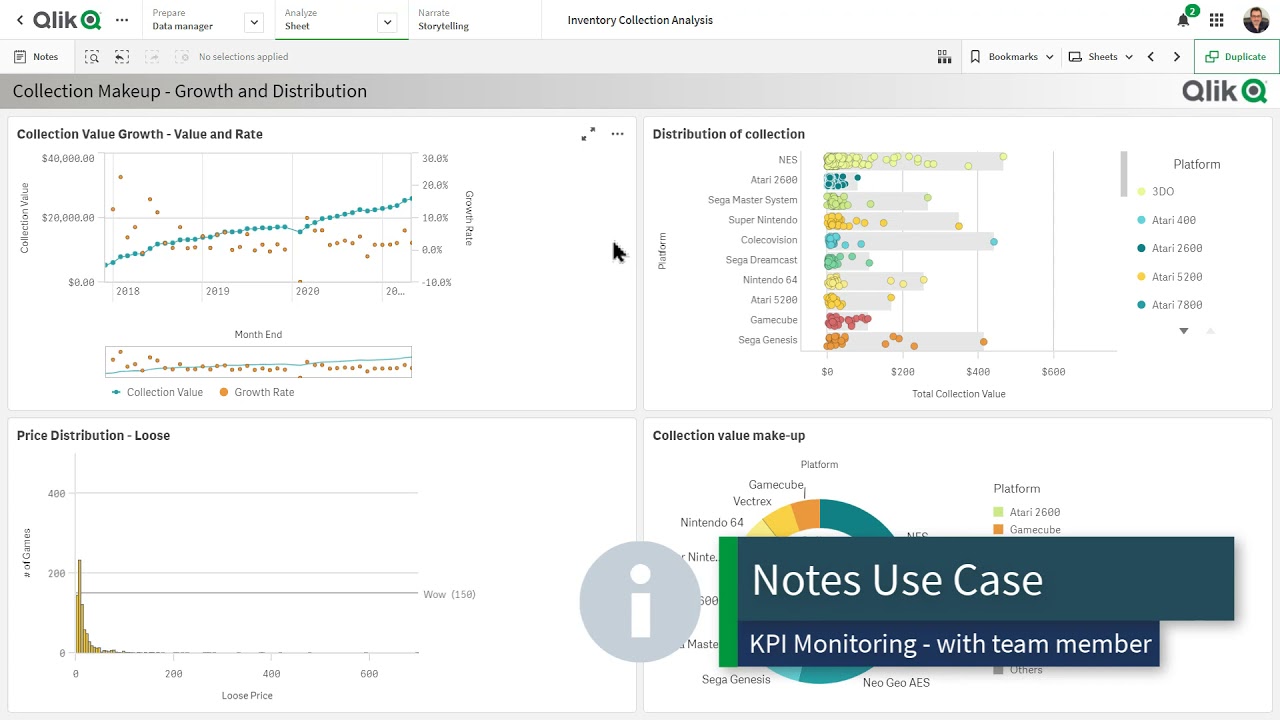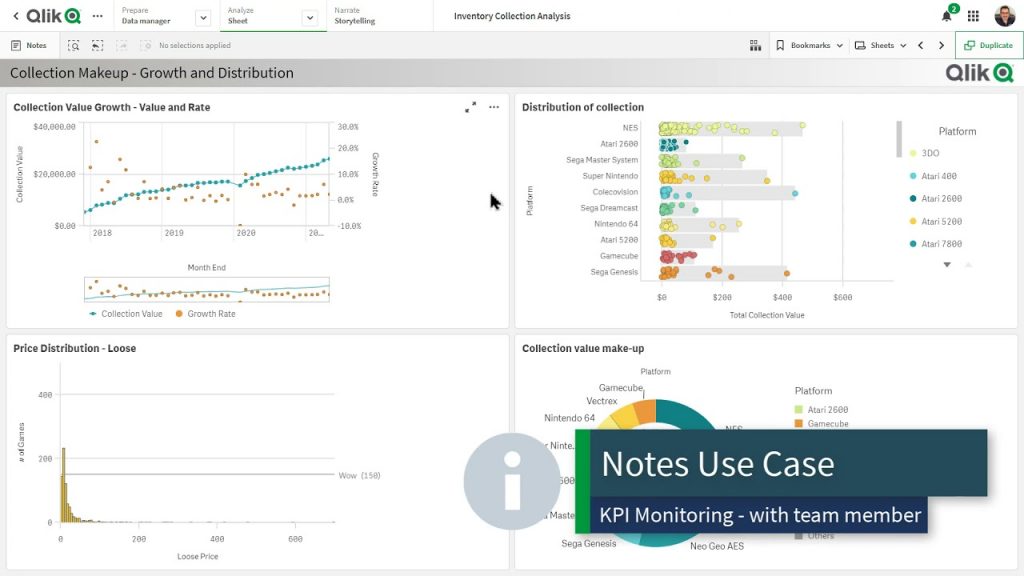 Collaborative Notes
Add human perspective and drive discussion

Provide narrative and human context for analytics

Take snapshots and add text commentary

Dive directly from notes into live analytics, in-context, for further exploration

Tag and invite others to discussions, creating a collaborative canvas

Synchronous and asynchronous communication

Save and access notes within apps and in the hub

Add notes to collections
Self-Service Reporting
Scheduled email delivery of exported chart or sheet

Subscribe to chart or sheet (with selections applied)
Schedule delivery of charts or sheets containing data of interest for yourself or others
Received through email in portable file format (PDF)
Email contains embedded snapshot of visualizations and links back to Qlik Sense
Manage subscriptions in the hub
From Passive to Active Analytics
Capture the Business Moment

Unique Analytics Engine
(Context from your data)
Collaboration & Notes
(Context from people)
Extension and Integration
(Analytics from other systems)
Fully Interactive Mobility
(At the point of decision)
Search & Conversational Analytics
(In natural language)
Embedded Everywhere
(In other apps)
Intelligent Alerting
(Prompt people)
Application Automation
(Trigger events)
Real-Time Data Pipelines
(When data changes)
Do you believe that data can help you to make better business decisions? Let us know.