Mole Data Privacy Analytics will help you discover your sensitive data
Mole Data Privacy Analytics is a search engine that can map and locate data across company's systems. The app is based on the Qlik Sense platform and can create a unified, comprehensive and logical overview of all corporate documents and data – both in terms of content and access. Sophisticated background technology makes it easy to browse, monitor and analyze data regardless of their source.

Solution is designed to collect, sort and unify data – both structured and unstructured. Complex of parameterized logical algorithms notifies of the possible occurrence of sensitive and personal data in corporate resources. The app determines how efficiently you use your resources, and also analyzes the eligibility of user access to individual data sources, especially those that contain personal and sensitive data.
Key features of Mole Data Privacy Analytics
Analysis of data sources
Access and authorisations mapping
GDPR overview
Evaluating effective use
Fast and easy to use
Open solution
Mole Data Privacy Analytics is not a proprietary ``bundle`` solution. It is not limited to specific types of data sources and comes with wide-ranging parameterization options for content analyses. EMARK Mole can be extended using multiple special software add-ons – it is all up to your preferences and needs.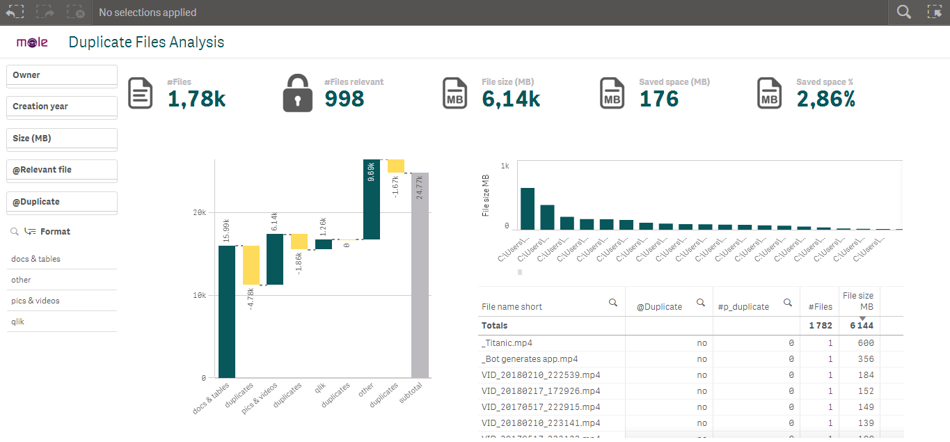 Cutting edge technologies
Mole Data Privacy Analytics is built on the Qlik Sense's breakthrough BI tool and benefits from its sophisticated associate data model (N: N relations). It is ready to process large amount of data and employes deep learning algorithms. Qlik Smart Search functionality provides fast search across the sources and visualisations.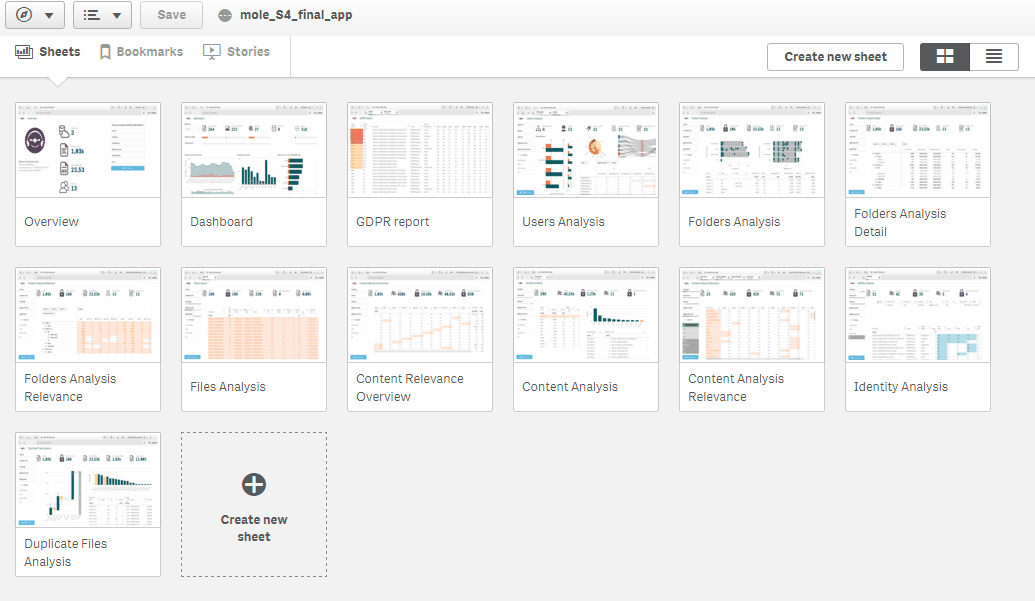 Architecture mapping
File Analysis
Analysing metadata (format, date of creation or modification, owner, authors, number of tables/images); content (TXT, CSV, DOC, PDF, PPT, XLS, HTML, JPG, TIFF, frequency/positional analysis of words). Also providing analysis of access and authorizations.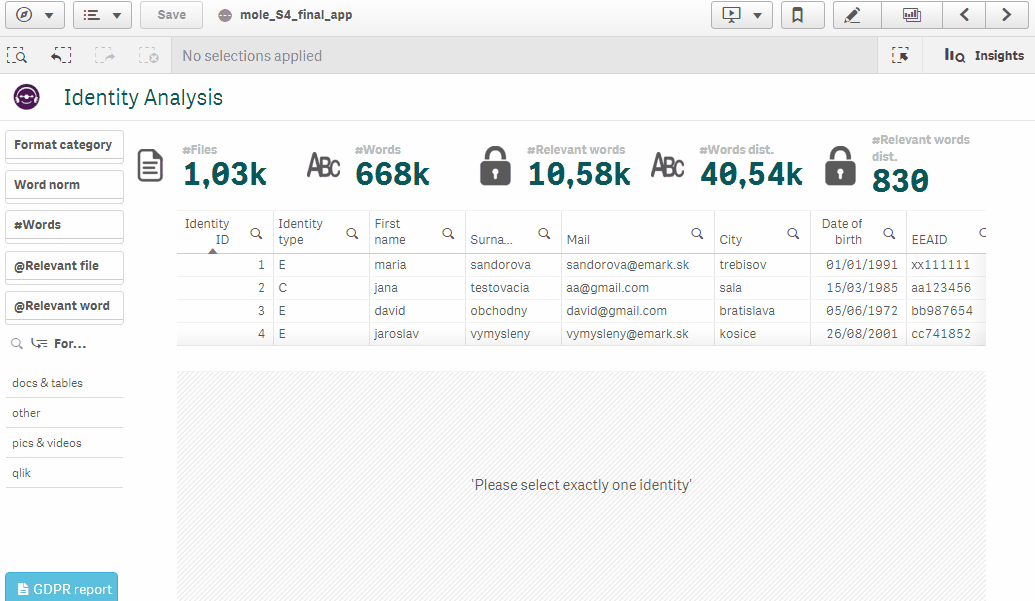 Identify and categorize GDPR relevant data
Semantic analysis
Analysing pre-defined rules (e-mail addresses, names, cities, ZIP codes, ID no., passport no., driving license no., vehicle registration no., birthdays, phone numbers, credit cards, IP addresses). Also provide analysis on defined algorithms (algorithms connected to a particular word).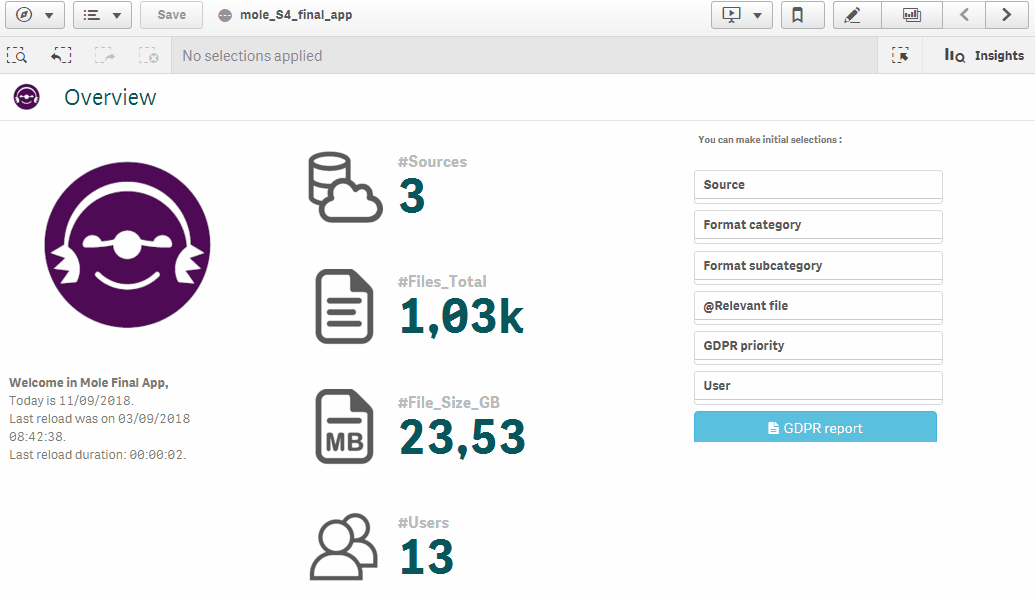 Final Analyses
Unified overview of analyzed data sources
Analysing pre-defined analyses (descriptive analysis of metadata resources, analysis of duplicates and resource efficiency analysis, access/ authorization analysis, frequency/position/GDPR content analysis). Also provides custom ad-hoc analyses.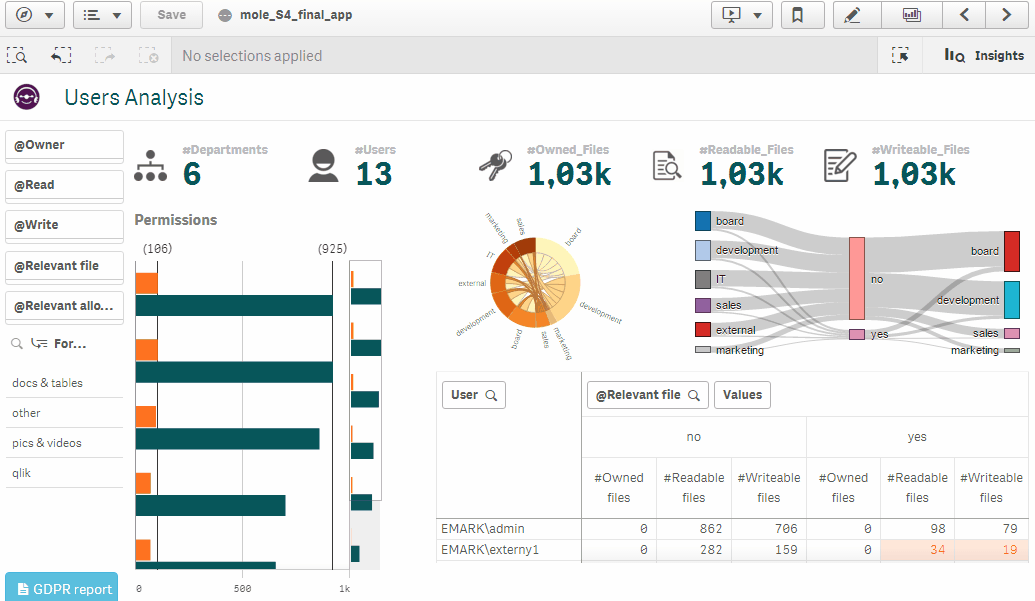 Use EMARK Mole everywhere where you work with sensitive data...
Finance, accounting and wages
Logistics, Distribution, Supply Chain
Are you interested in Mole Data Privacy Analytics? Fill out the form and we will get back to you shortly.
[vfb id=38]