We are looking for the talent who will help us find more talents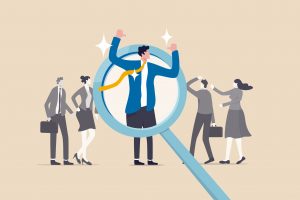 Full Time
from 1,500€ brutto
---
About the job
We are a company implementing the BI platform Qlik, with a strong focus on consulting and client needs. We plan to grow significantly in the near future, and for this reason we need help with filling technical positions (among others). Along with your colleague Miška, your task will be to get us in touch with the most suitable candidates. As a Talent Acquisition Specialist you will start with the preparation of posts and gathering CVs and applications, and over time you will take over the whole hiring process. As the "owner", you will be able to fully realize your potential, use the experience and most importantly, be creative. We operate in the field of IT, so it is necessary that you have a basic level of knowledge of the area, especially of data analytics (databases, reports, etc.)
What will be your tasks as a Talent Acquisition Specialist
Implementation of the recruitment strategy through suitable recruiting channels and tools, the initial stages of the selection process, participation in the entire selection process up to onboarding, namely:
co-defining positions
creating posts and recruiting campaigns in cooperation with the marketing department
screening and shortlisting of candidates, communication with candidates
active search for candidates on the Slovak and foreign labour markets
organizing and later conducting interviews in Slovak / English
organizing PR events for students focusing on technology
close cooperation with the HR manager
participation in the implementation of the TalentLMS tool
Skills and requirements
Previous experience in recruitment or HR – at least a year
Active knowledge of English is a prerequisite – level B2 – fluent communication
Knowledge of IT / active interest in IT technologies
Excellent communication skills
Flexibility and passion for one's work
We offer
a job in which you can use a wide range of skills and expertise,
access to state-of-the-art knowledge and trends in business intelligence, process management, performance management, strategic management and cost management.
25 days of leave, regardless of age, after the first year
working from home as needed (your presence in the office is required once in a while)
you can use the company telephone for private purposes
personal development opportunities, long-term cooperation and associated perks
relaxation, sports, leisure activities, Multisport card, health coverage from company's funds
indefinite period employment contract.
Place of work
work from home + Bratislava
Employment
Salary
Depending on seniority 1500 – 1900 EUR gross + rewards for extraordinary results
Visit our Carreer Pages to explore other job opportunities.