Our team is growing and new roles are emerging for tech enthusiasts. This time we are looking for an experienced person for the position of Cloud Data Engineer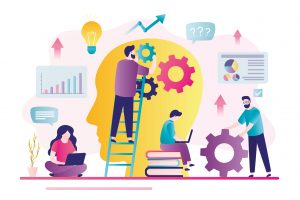 Full Time
from 3200€ brutto
---
We are looking for an enthusiast who wants to work with modern SW technologies, able to work effectively independently and in a team. You will work in an inspiring environment that connects business and technology. We offer the environment of an innovative technology company with an excellent team and a friendly culture that we care about. Our mission is to help people use data more efficiently. Automating processes, setting up data flows, finding correlations in data, improving access to data and using the most modern cloud technologies are music to our ears.
If you are looking for a job where you can learn at a fast pace and use the most modern technologies, you are at the right address. With us, you will meet not only experts in business intelligence (BI) technology, but also in the specific environment of specific industries – we have over 200 clients who operate across fields, many of them really prestigious. You will be able to learn from the best in the industry, we will be happy to support your innovative ideas and you can also look forward to personal and professional development.
What exactly will you do with us?
work on interesting projects, design user applications and scripting of data-transformation processes as needed
implement the proposed concepts (data streaming, migration of data from the client's source systems to the cloud, using ETL and/or real-time streaming, or API) to Snowflake / another cloud database
collaborate on the analysis of client needs and understanding of their data sources, their structures, etc. Communication with the client
creation and presentation of prototypes and demo applications in Qlik Sense and related tools
creation of an optimal concept of raw-to-ready data in the context of the client's needs, its "data landscape", and our technological possibilities (Qlik Sense, Snowflake, Qlik Replicate/Compose, Qlik Sense)
Requirements:
MUST HAVE:

Experience with SQL databases (MS SQL, Oracle, MariaDB, PostgreSQL or similar)

Experience with any ETL tool (e.g. Keboola, Azure DataFactory, AWS Glue, Alteryx, …)

Experience with data migration or integration projects

Mastery of MS Office tools

NICE TO HAVE

Experience with BI tools (Qlik Sense, PowerBI), controlling/reporting

Knowledge of javascript, JAVA, C#, Python or other programming language

–

English language – advanced – spoken and written

Knowledge of Snowflake, Databricks, etc.

Knowledge of cloud services in Azure or AWS related to data integration, processing or analysis
What we offer:
Work in top and modern technologies (Qlik, Snowflake…) on interesting projects

Implementation of innovative solutions that work and benefit more than 200 customers

Access to the most modern knowledge and trends in the field of Data Analytics

25 days of vacation regardless of age

Contract for an indefinite period in the form of employment/ contract

n and a partnership approach

Allowance for relaxation and sports activities

Hybrid cooperation model (Home-office option)

Mobile phone and PC also for private purposes

Free parking in the building

Coffee, tea, fruit at the branch

Nursery in the building
Place of work:
office in Bratislava, Prague, Pardubice. Tt is possible that the employee will have to travel across Slovakia/Czech Republic as well as abroad
Type of employment:
full-time employment or part-time employment (in case of students)
Platové podmienky:
depending on seniority 3200 EUR + variable up to 600 EUR/monthly
If you are interested in the above offer, please out the form: